Out With the Old……….. In With the New……….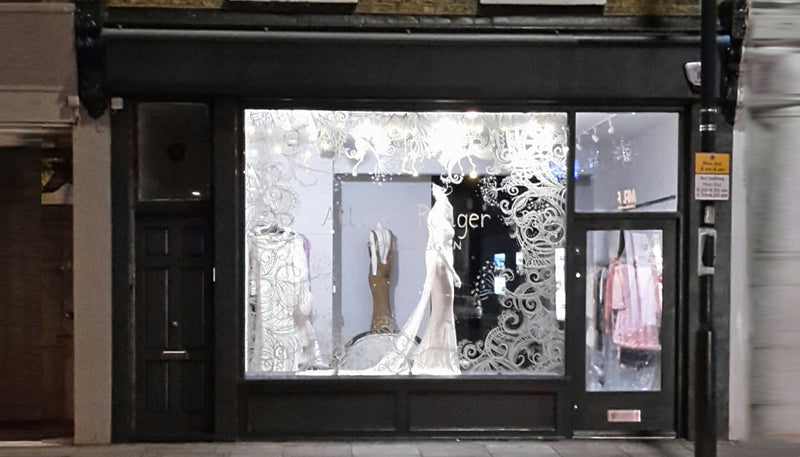 Dear All,
Wishing you a very Happy New Year!
I hope I'll be forgiven for being so late with my message, and news, due to the distraction of completing the purchase of my boutique. Last Tuesday, you may have heard the whoops of joy, and relief across South West London!
There are many people to thank for helping me realise my dream, providing encouragement, and support, and helping me through the transition after leaving Chelsea Green – you know who you are – and I am extremely grateful.
Now I feel really excited about getting back to my work, utilising the wonderful skills of those who work with me, and creating fabulous new collections. I may appear to have jumped the gun, for there are a few collections that I've been coveting, to introduce alongside my designs.  I have bought the most beautiful scarves, cashmeres and accessories, to sit alongside my new designs, and I'm longing to present everything to my ever loyal, and new local clientele. Watch this space!
Allison
Working in the Rag Trade: Part One
The shop window was covered for months, thick with bi-weekly additions of fly posters.  So their replacement with a window full of posh frocks has been met with pleasure by the ladies, and a few gentlemen in and around Parsons Green.
There have been questions about the clothes, and the mystery person behind this new boutique.  Having worked in an area of fashion, where discretion is utmost, blowing my own trumpet doesn't come naturally.  However, perhaps it's time to peep out of my shell, and tell the story of my life in the Rag Trade. It's been quite a long time, so I'm planning a series.
I believe I can attribute my love of fabrics to my genes……… my paternal great Grandfather was head draper at Liberty, and I can imagine the luxurious and exotic fabrics that he would have worked with at that time.  I grew up with the best my family could afford, which brought an appreciation of quality, in clothing and around the home.  Add to this the Libran tendency for a love of beautiful things, and people, and this is my heritage!
As a child, I loved to make things with scraps of fabric, and when we learned to sew at school, I spent a lot of time making clothes using Vogue patterns.  The time came when I couldn't find patterns for what I wanted to make, and so the experiments began.  I learned a lot from the ridiculous things I would cut and make: the full length circular skirt, made from a loose weave Indian cotton bedspread that grew longer and longer on the bias parts, and a long calico skirt, made from gathered tiers which had such a volume of fabric at the hem I could barely walk in it!
I have kept these silk tops and dress in a garment bag for years, as they hold special memories of my late teens! I loved the silk, called Honan silk, and used it a lot. Sadly, I hadn't room to keep the tailored pieces I made at this time…….
For my A-levels, my needlework teacher was my biggest help and inspiration.  Jill McConnell-Wood designed and made clothes for boutiques around Newcastle, and she encouraged me to design and think outside the norm, with colour coordination and proportion.  These designs required good pattern skills and making ability.  I'm absolutely certain that her influence enabled my acceptance to study fashion design at Harrow School of Art, one of the leading courses in London at the time – and for this I'm incredibly thankful.
This was 1979, and through the early 80's Ralph Lauren was one of the hottest new designers, with a life-style look for adults and family.  I aspired to design similar collections with combinations of knitwear and tailoring, textures and colour, as seen in my drawings.
However my first job, as assistant designer to David and Elizabeth Emanuel took me off on a completely different tangent – surrounded by frothy ballgowns and glamorous evening wear.  It was fun and exciting.  Since their making of Princess Diana's wedding dress that summer, the celebrities and Royals of the day flocked to wear their label. It was a buzz, with the best photographers, magazines and stylists – and there were lots of parties!  My role was designing clothing and products for Emanuel licencing, but  I learned a lot about making couture clothing and the highest levels of finish from the amazing seamstresses, and the Schlaepfer fabrics were the best available at the time.
In the early 1980's London was buzzing with Arabs who loved the opulent styles and fabrics.  After three years I left the Emanuels to design children's party dresses for the Arab market.  My designs were selling well, and everyone wanted to know who the designer was!  I wasn't happy in the company, but I met the most fabulous team.  Rene the sample machinist worked with me for many years, as did Kay the pattern cutter and grader.
An even briefer Designer role followed with Desmonds, a supplier to M&S but I wasn't happy when design details had to be cut, due to cost………  At the same time, my freelance career was taking off, initially in Arab children's wear and evening wear.  Gradually I was introduced to different companies, and I have happy memories designing women's tailoring and knitwear, with DAKS, and D'Este.  The latter took me on several trips per season, to work with the manufacturers in Italy.
At this time I met my (ex) husband, whose dream was to leave the London rat race, and I had to decide what to do.  Inspired by looking for wedding dress ideas myself, and with my knowledge of couture, and children's party dresses, I decided to launch my own label.  As a test, I made a collection of six designs and, it seemed so easy, made an appointment to show them to the bridal buyer at Liberty.  She ordered four of my six designs, which confirmed my decision to go for it.
I showed my collection at Harrogate, selling to a number of independent bridal retailers.  Over the years the business grew.  I sent bundles of cut work to Rene and other machinists in London, and would carry bags of finished dresses back to Northamptonshire one day every week – resulting in Pop-Eye arm muscles………
My style AR341 was Liberty's best seller in 1990, and here are more images from the bridal magazines of the day.
I took a shop in Uppingham, Rutland, stocking my bridal designs, and beautiful hand-made shoes, and accessories.  For three years business was great, and I met very special people during that time, some of whom I'm still in touch with.  However, in 1992/93 the recession hit my business.  I tried to boost the wholesale side, but the only ones who seemed to make it through that period were those exporting.  The UK economy had sunk, and I was forced to give up all I had worked for and loved.
Bride of the Month – Alice
"My experience with Allison Rodger was magical from start to finish. Having discussed the design with Allison, I knew exactly what I wanted and she built the dress around me over a period of about 6 months. Her attention to detail was outstanding and the finished design was more than I could have ever wished for. I had seen the French lace that is beautifully stitched on the dress and around the edges of the veil in Allison's shop and completely fallen in love with it. For me, this lace was the pièce de résistance! The dress also has an inner-corset, which meant the stunning silk crepe hung naturally, and complimented my figure and curves."
If it wasn't the lace that captured Alice, then from somewhere I won a huge element of trust, because her first eagerly awaited visit hadn't been noted in the diary – and there was no one to blame, but moi, for being unprepared, for the arrival of Alice, her Mother and two friends.
I will feel embarrassed forever, though I know I am long forgiven……..
Alice is a teeny doll-size, with gorgeous, feminine curves.  We began with an A-line skirt toile, which looked too ordinary, and we enhanced the shape, by curving the seams in towards her body, and therefore giving more length, and a taller appearance.
The empire line dress shape was formed over a corset bodice, to support the weight of the dress, and made from heavy silk crepe, with a perfectly proportioned train.
My beaders made a special beading design on the lace, with very delicate ivory pearls, beads and tiny sequins, and this was used to cover the empire bodice and cap sleeves.
In addition they beaded many extra floral motifs, which were stitched irregularly around the edge of the veil.  Alice had envisaged her veil from the outset, and it looked exquisite on her, in addition to it becoming a special family heirloom.
And Mother – Julia
"The minute I met Allison I loved her warmth and understanding around fabric – how it has an energy of its own. Allison created a beautiful outfit for me which has movement, fun, flair and usability. I miss our fitting sessions!"
Julia called me soon after my initial meeting with Alice, to ask if I would discuss design ideas for her outfit for Alice's wedding – she wanted something unconventional.
My ribbon jacket shape was a hit, because the nipped in waist, and slight peplum flattered Julia's figure, and we decided that palazzo pants looked fabulous.  Rather than wearing a separate top, pants plus top became a neat, trendy jumpsuit.  The jacket was made in silk velvet, in shot pink and blue = mauve tones, which worked beautifully with the blue/mauve silk crepe jumpsuit.
Gorgeous hat by Sianna Yewdall.
For the evening, and dancing, the velvet jacket was replaced with a gorgeous little cropped beaded jacket, made from shot silk chiffon and beaded in tones of silver through mauves. Exquisite.
Alfie's Thought of the Day
"Although no one can go back and make a brand new start, anyone can start from now and make a brand new ending." 
Carl Bard